…
PACKS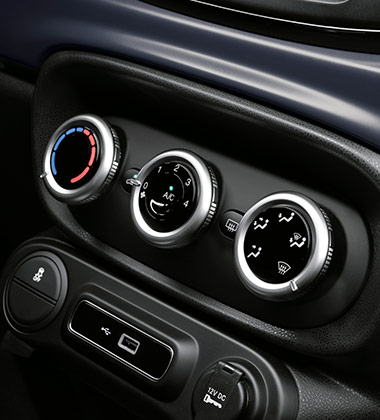 MANUAL A/C
Easily set the right temperature onboard to create your ideal climate.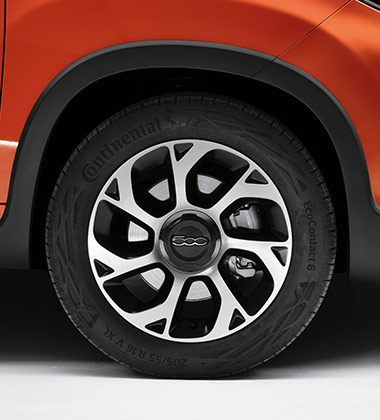 16" ALLOY WHEELS
Its optional shiny wheels will take you all the way to the next sunset.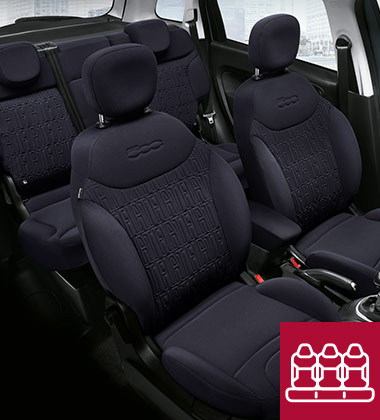 5 SEATS CERTIFICATION
No one is left out: with the optional 5 seats certification, 4 passengers can join you whenever you want.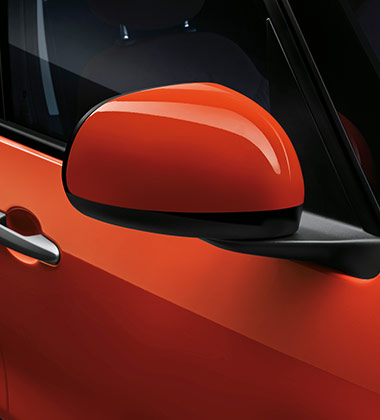 BODY-COLOR MIRROR CAPS
Combine the color of your mirror caps with the body for one total look.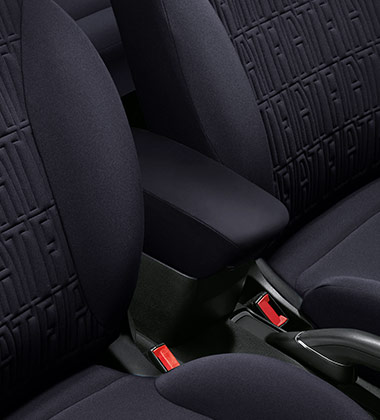 FRONT ARMREST
More comfort and space for the driver: a real versatile solution.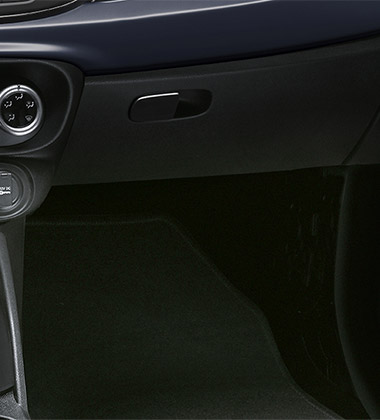 FRONT FLOOR MATS
Protect the interior floor of your 500L Cult with the specific mat.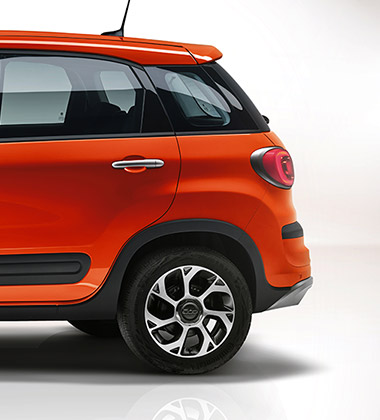 CARGO BOX
500L gives you more room for everything you need: its cargo box is designed for maximum versatility and customization.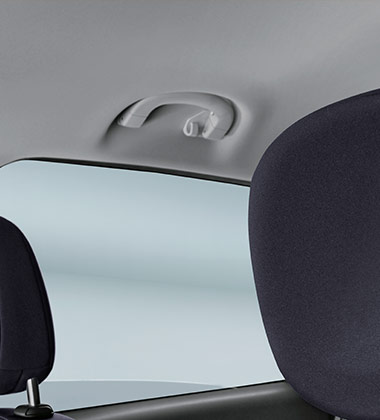 REAR INNER HANDLES
Grab handles designed to augment comfort and safety. Anytime, anywhere.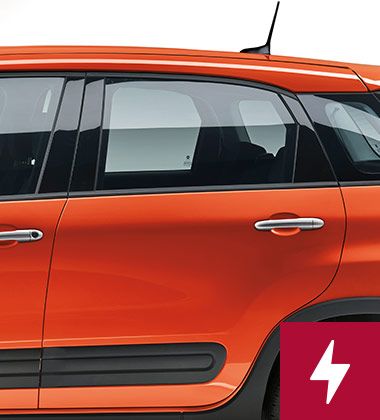 REAR POWER WINDOWS
Give your passengers the power to feel the breeze of a journey.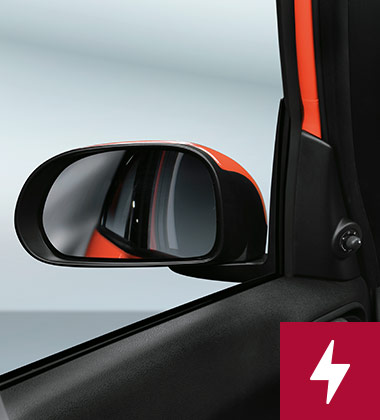 ELECTRIC MIRRORS
Have a safe sight, effortlessly.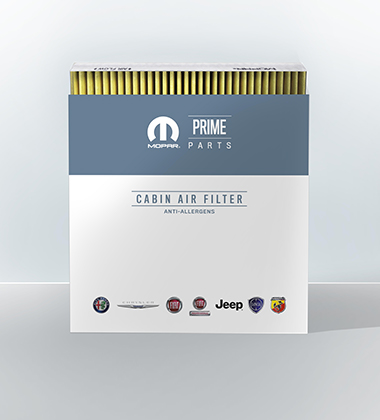 MOPAR PRIME CABIN FILTER
Carbon activated filters with an additional treatment based on Polyphenol able to:

• Block particulate matter almost completely (PM2.5)
• Trap almost 100% of allergens
• Reduce the growth of moulds and bacteria by more than 98%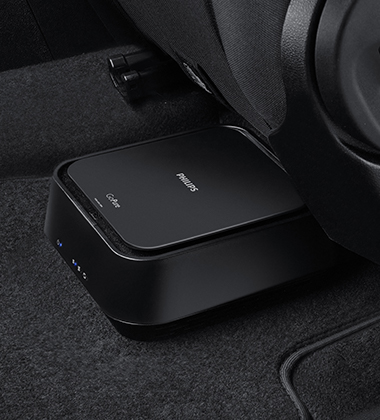 AIR PURIFIER
It is a portable device suggested by MOPAR and manufactured by Philips, with an integrated HEPA filter that:

• Filters even fine particles, such as PM 2.5. Not only does it remove harmful particles, but also cigarette smoke and dust.
• Eliminate toxic gases and car exhaust quickly
• Removes up to 98% of airborne bacteria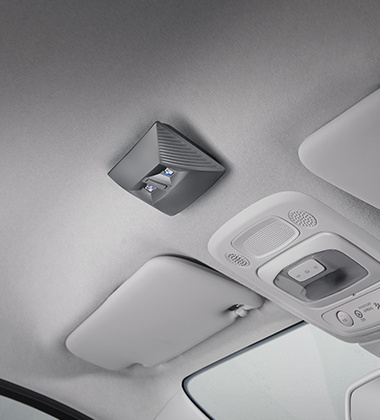 UV-C CLEANER
It is a plug&play device suggested by MOPAR and manufactured by Yanfeng which irradiates the interior surfaces of a vehicle with a UV light helping to:

• Sanitize the vehicle interiors (seats, dashboard, steering wheels, knob) in few minutes
• Remove up to 99% of bacteria present on surfaces
PACKS

MANUAL A/C

Easily set the right temperature onboard to create your ideal climate.

16" ALLOY WHEELS

Its optional shiny wheels will take you all the way to the next sunset.

5 SEATS CERTIFICATION

No one is left out: with the optional 5 seats certification, 4 passengers can join you whenever you want.

BODY-COLOR MIRROR CAPS

Combine the color of your mirror caps with the body for one total look.

FRONT ARMREST

More comfort and space for the driver: a real versatile solution.

FRONT FLOOR MATS

Protect the interior floor of your 500L Cult with the specific mat.

CARGO BOX

500L gives you more room for everything you need: its cargo box is designed for maximum versatility and customization.

REAR INNER HANDLES

Grab handles designed to augment comfort and safety. Anytime, anywhere.

REAR POWER WINDOWS

Give your passengers the power to feel the breeze of a journey.

ELECTRIC MIRRORS

Have a safe sight, effortlessly.

MOPAR PRIME CABIN FILTER

Carbon activated filters with an additional treatment based on Polyphenol able to:

• Block particulate matter almost completely (PM2.5)
• Trap almost 100% of allergens
• Reduce the growth of moulds and bacteria by more than 98%

AIR PURIFIER

It is a portable device suggested by MOPAR and manufactured by Philips, with an integrated HEPA filter that:

• Filters even fine particles, such as PM 2.5. Not only does it remove harmful particles, but also cigarette smoke and dust.
• Eliminate toxic gases and car exhaust quickly
• Removes up to 98% of airborne bacteria


UV-C CLEANER

It is a plug&play device suggested by MOPAR and manufactured by Yanfeng which irradiates the interior surfaces of a vehicle with a UV light helping to:

• Sanitize the vehicle interiors (seats, dashboard, steering wheels, knob) in few minutes
• Remove up to 99% of bacteria present on surfaces